The team at Coal Creek OSM is committed to providing state-of-the-art surgical services. To plan and deliver excellent surgical care, we use the best technology available, including 3D digital CT imaging to create clear, precise images of your jaw, teeth, and other facial structures. For expert oral surgery services, contact our office to schedule a consultation today.
What is CT 3D Imaging
The CT 3D scan, also known as cone beam computed tomography, produces detailed images of your teeth in three dimensions:
Teeth
Jawbone
Other facial bones
Soft tissues
Nerve paths
Coal Creek OSM offers CT 3D scans. The technology allows the surgical team to examine your mouth in detail for early and effective diagnosis and treatment.
Why Would I Need CT 3D Imaging?
The team at Coal Creek OMS use CT 3D scanning when routine dental X-rays don't provide sufficient information. For example, they may recommend the advanced scan to:
Assess dental implant placement
Evaluate TMJ dysfunction and plan TMJ treatment
Examine teeth for orthodontic treatment planning and progress checks

Plan

wisdom tooth removal
Visualize abnormal teeth and other developmental abnormalities
Analyze dental injuries and plan restorative procedures
Evaluate facial trauma extent and plan treatment
Examine the teeth and bones for signs of infection or damage
It is through the use of cutting-edge imaging equipment that our surgeon can create precise surgical plans and perform operations in an effective and safe manner.
What Happens During CT 3D Imaging?
You must remove any jewelry, eyeglasses, hearing aids, or other devices that could interfere with the scan. The scanner moves around your face and head, taking dozens of images or "slices." When the scan is complete, the computer combines the images to create a digital 3D model of your head and neck.
It usually takes less than a minute to complete the scan, although your surgeon may have to take traditional dental X-rays as well.
IS THE PROCEDURE SAFE?
CT 3D dental scans are very safe. While they require more radiation than traditional X-rays, your exposure is still minimal. The team at Coal Creek OSM provides lead aprons and other protective devices to reduce your exposure as much as possible.
Frequently Asked Questions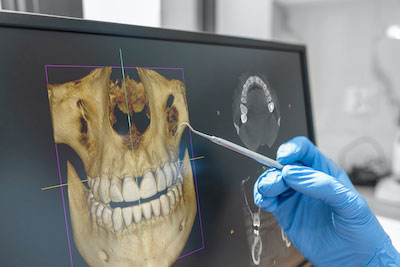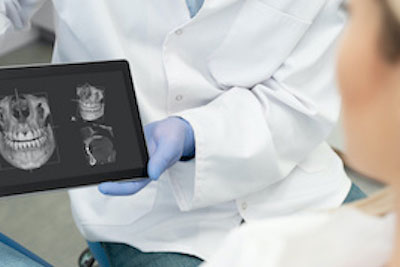 WHAT DOES A DENTAL CT SCAN SHOW?
A dental computed tomography (CT) scan is an advanced form of imaging technology that allows your dentist to examine areas inside your mouth in 3D. With CT3D your dentist can determine the appropriate place to insert a dental implant, identify issues with your gums, the roots of your teeth, jaw and tonsils, adenoids deviated septum and enlarged turbinates.
WILL A CT SCAN SHOW A TOOTH INFECTION?
If you have an aching tooth, an X-ray is sufficient to assist in identifying whether it is caused by an abscess. Your dentist may be able to determine if the infection has spread to other areas, identifying other abscesses using X-rays. However, it would be recommended to use a CT scan if the infection has spread to the neck area, to determine the extent of the infection.
IS A CT SCAN NECESSARY FOR ROOT CANALS?
It may be necessary to use 3DCT when root canals become calcified. It can be difficult to see clearly the canals on a standard 2D x-ray when they are calcified. Using 3DCT gives a much clearer picture allowing the dentist to operate with the root canal system.
DO YOU NEED A CT SCAN FOR DENTAL IMPLANTS?
CT3D can provide valuable diagnostics to help with the accurate, precise and safe placement of dental implants. When a CT3D scan is used before a dental implant, the procedure is likely to go smoother with less recovery time.
COMPUTER ENHANCED TREATMENT PLANNING
We have special 3D software that allows us to evaluate your bone quality, bone quantity, and bone location for the best possible placement of your dental implants. This also allows us to work closely and smoothly with your restorative dentist to ensure an ideal result for your dental implants.