Our office is equipped with only the most advanced and state of the art dental technology. With the help of intraoral scanning, the day of uncomfortable and lengthy impressions are long gone. We can now achieve high-quality digital impressions that not only deliver better results but offer a more comfortable experience for our patients!
Improved diagnosis- The intraoral scanner uses the most advanced 3-D video technologies to capture the exact shape and contours of the teeth. This enables us to to have the correct picture and dimensions of the patient's dental structures thereby giving accurate and appropriate treatment.
Real-time imaging- The intraoral scan is available immediate and is capable of being viewed at chairside, enhancing patient education. This increase in clarity and communication at appointments means patients are more likely to understand and collaborate on their treatment plans.
Safe- there is no radiation emitted by the intraoral scanner!
Improves Communication with Patient and the Digital Dental Lab- with an intraoral scan you can share the scan immediately with a lab and receive timely feedback on pending treatment.
Digital archives- Gone are the days of search through filing cabinets and paper charts for old x-ray images of your mouth and jaw. Another great benefit of intraoral scanners is that we can store all of your impressions in digital archives— making it easier for us to access them at every appointment. This is a much more environmentally friendly option!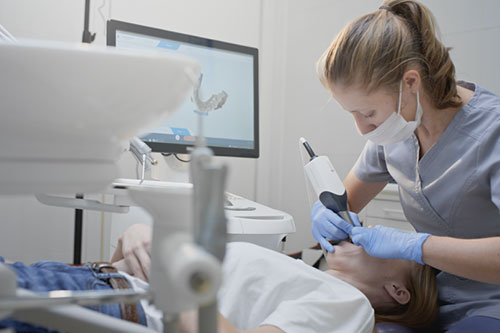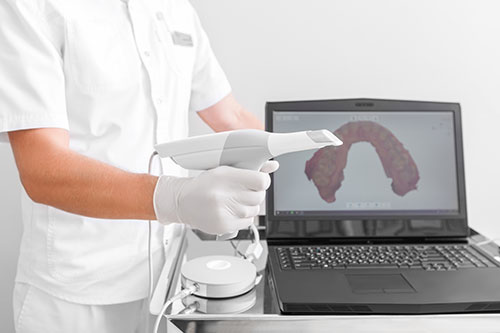 COMPUTER ENHANCED TREATMENT PLANNING
We have special 3D software that allows us to evaluate your bone quality, bone quantity, and bone location for the best possible placement of your dental implants. This also allows us to work closely and smoothly with your restorative dentist to ensure an ideal result for your dental implants.